ACI Medical & Dental School
2 Meridian Rd.
Eatontown, NJ, 07742-4232
732-440-4110
732-440-4054
View Our Website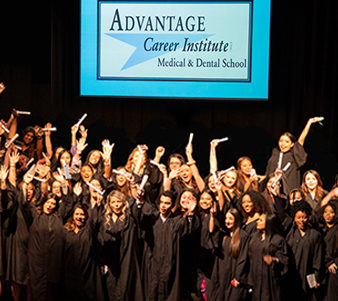 Get Connected
Connect with ACI Medical & Dental School by filling out the form below.
ACI Medical & Dental School has successfully switched to LIVE distance learning to ensure the health and safety of our students and staff. Our courses are continuing as scheduled with the same level of training and dedication to our students as before, only in a virtual environment. This includes providing LIVE lectures with our instructors and students from their homes utilizing Zoom Meetings and Google Classroom. We are committed to providing excellent education and employment opportunities during this challenging time.
The need for well-trained medical and dental professionals is even greater than ever before. Use this time staying in your home to transition to a new career! We are able to offer credentialing for in-demand careers in only five months with our three primary programs:
• Medical Assistant with Phlebotomy, EKG and Patient Care Technician
• Dental Assistant with Dental Radiology
• Medical and Dental Administrative Assistant with Electronic Health Records and Medical Billing and Coding
ACI Medical & Dental School is accredited by the Middle States Association Commissions on Elementary and Secondary Schools (MSA-CESS) and approved by the Veteran's Administration.
OUR RESULTS SPEAK FOR THEMSELVES:
• 93% Graduation Rate*
• 92% Credentialed on National Certification Exams**
• 83% Employment Rate**
(*IPEDS 9/1/16 – 8/31/17)
(**7/1/2019 – 6/30/2020)
We understand that this time can be challenging for parents and people working from home, which is why we have both day and evening classes available for all three of our primary programs. During your initial conversation with us, we can discuss which option is best for your schedule.
Get started on training for an exciting new career in the medical & dental fields by contacting us or calling us at 732-440-4110 to set up a Zoom meeting.
NJBIA Members, their employees, and family members—Receive a $250 Scholarship toward an education in the Medical and Dental field. Call Frank Preston at (732) 440-4110 (ext. 0) or e-mail fpreston@aci.edu.
Sponsored Content