Attention To Detail Cleaning & Janitorial Services, LLC
15 Holly Road
Brick, NJ, 08723-5423
732-814-1616
View Our Website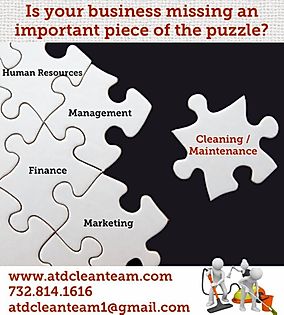 Get Connected
Connect with Attention To Detail Cleaning & Janitorial Services, LLC by filling out the form below.
Let us solve your cleaning problem! 
Office and Commercial Cleaning, Foreclosure and Estate Cleaning and Clean-Outs, Real Estate Move in and Move Outs. 
Downsizing Services
Your Confidentiality and Satisfaction 
Is Our Priority
​Leave the worry out of the equation by taking advantage of our Janitorial Service and letting the experts handle your cleaning needs. We'd love the opportunity to work with you and prove why our exceptional service sets us apart.
We are a fully insured, efficient, friendly cleaning company with attention to detail; our professional Janitorial Service is well renowned throughout Central NJ.  Your confidentiality and privacy is JUST as important to us as the cleanliness of your establishment.  Our team is background checked, drug tested and agrees to and signs a privacy agreement; they are up for every job and manage projects with the skill and experience that our clients have come to expect. We always stand behind our work, with client satisfaction being our #1 priority. Thank you for taking the time to stop by and learn more about ATD.
Sponsored Content