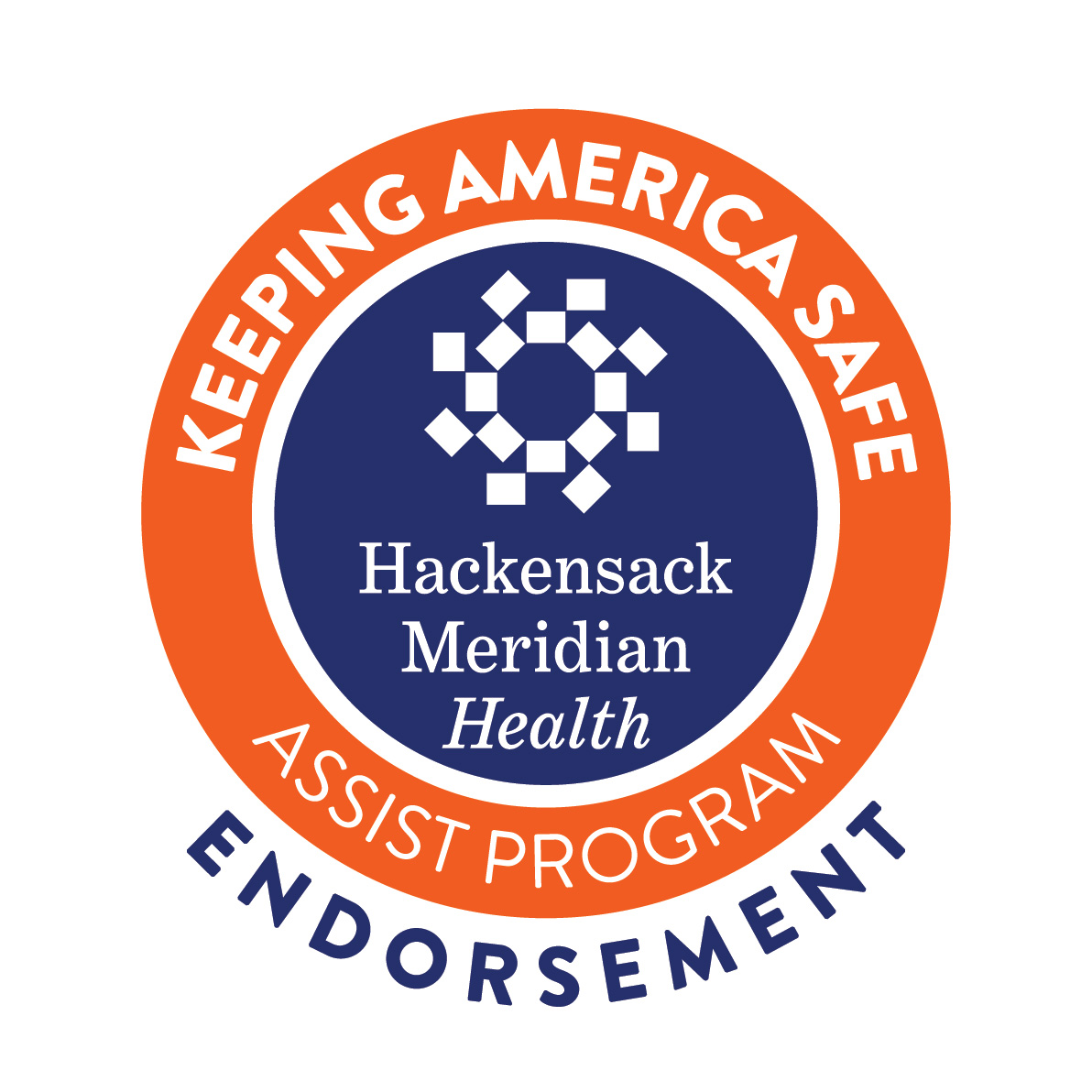 Hackensack Meridian Health
343 Thornall Street
Edison, NJ, 08837
732-869-2777
View Our Website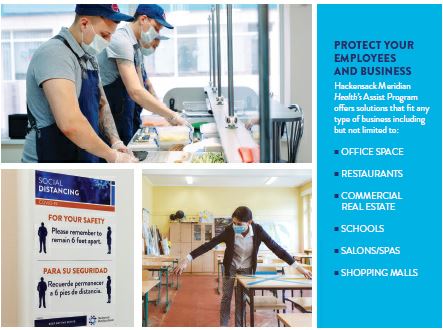 Get Connected
Connect with Hackensack Meridian Health by filling out the form below.
KEEPING AMERICA SAFE: Hackensack Meridian Health Assist Program
TRANSFORMING BUSINESS TOGETHER
Businesses face a constantly changing landscape due to COVID-19. Operating "as usual" does not work anymore. Business owners have many questions and concerns especially because they are not "health care" experts but are dealing with a "Health-related" issue. They need to do their best to keep employees, customers and visitors safe. That's why we created the Keeping America Safe: Hackensack Meridian Health Assist Program to share best practices in safety, cleanliness, education and testing. Several business owners' concerns that our program addresses include:
How can I best protect my employees and customers against COVID-19 transmission?
How can I keep track of changing guidelines and their impact on policies and protocols?
How can I certify that crucial, precautionary measures have been implemented as my commitment to provide a safe environment?
How do I need to reconfigure my environment to accommodate for social distancing?
What should I do if someone tests positive for COVID-19?
How can I best support my employees' health and wellbeing?
TURN TO THE EXPERTS
As New Jersey's largest integrated health care network, Hackensack Meridian Health is prepared to answer these questions and is well positioned to provide expert consultation and a myriad of exceptional services that contribute to a safe and secure environment for employees and customers.
Our network faced COVID-19 head-on, treating thousands of patients in our hospitals and sites, as well as conducting over 119,000 virtual visits and diagnostic COVID-19 tests, innovating testing and treatment options through our School of Medicine and Center for Discovery and Innovation, while also protecting and supporting our 36,000+ team members, their families and our community at large.

Our experts have been thought-leaders throughout the pandemic, sharing insights with the business and medical community nationwide.
HACKENSACK MERIDIAN HEALTH  has numerous national excellence awards, joint commission accreditation, magnet designation, patient safety grade from the leapfrog group and practices green health's environmental excellence awards, and has high quality and patient satisfaction scores in all aspects of health care.
CUSTOMIZED SERVICES FOR WHEN YOU NEED IT MOST
Hackensack Meridian Health's Assist Program offers solutions that fit any type, size and scale of businesses
INFORMATION AND EDUCATION: Providing access to clinical, environmental health and safety, communication, health and wellness experts, webinars, checklists, scientific updates, videos, handouts, e-learning modules and more.

ON-SITE VISIT AND CONSULTATION: Evaluating and offering recommendations for work environments including risk mitigation strategies, team member physical and emotional health and wellbeing, facility reconfiguration, air exchange and filtration, social distancing, and signage.

POLICY AND PROCEDURE REVIEW AND ENDORSEMENT: Focusing on infection prevention and control measures, cleaning and disinfection protocols,  symptom screening procedures, COVID-19 testing strategies, exposure/incident management, and return to work criteria.

HEALTH CARE SERVICES: Facilitating access to on-demand virtual visits, urgent care centers, physician practices and acute care hospitals across the state.
TIERED SERVICE CHOICES TO MEET YOUR ORGANIZATION'S UNIQUE NEEDS
TIER 1
DIRECT CONNECT HOTLINE  A fast-track to obtain answers from Hackensack Meridian Experts
RESOURCE ACCESS CENTER  A comprehensive online resource of COVID-19 information including up-to-date guidelines and best practices
WEEKLY BRIEFING  Reliable local and global updates on important COVID-19 facts
TIER 2
ON-SITE VISIT  Personalized assessment, guidance and suggestions
POLICY AND PROCEDURE REVIEW  Detailed analysis citing requirements and recommendations
HACKENSACK MERIDIAN HEALTH SEAL OF APPROVAL  Endorsement upon meeting essential criteria
OPTIONAL ADD ONs (APPLICABLE TO BOTH TIERS)
VIRTUAL MEETINGS  Dedicated time with Hackensack Meridian experts
COVID-19 TESTING ASSISTANCE  Contingent on available resources
ONLINE LEARNING MODULE  Information on the role and responsibilities associated with proper COVID-19 screening and symptom checking
INTEGRATIVE HEALTH AND WELLBEING SUPPORT SERVICES (NON CLINICAL)

Expert consultations (Assessment and program development)
Virtual Sessions

Guided meditation and promotion of self-care, stress management and resilience
Nutritional counseling and meal preparation
Group health coaching
WE'RE READY TO PARTNER WITH YOU
Our goal is not only to be the health care provider of choice, but to also be the preferred partner to businesses and employers that serve our community. Businesses who participate in Tier 2 or Tier 3 of Hackensack Meridian Health's Assist Program can utilize an endorsement logo on approved materials to let their employees and customers know they have taken advanced safety measures and are fully committed to creating a safe environment.
Like you, we are focused on safely getting people back to work and revitalizing the economic health of our communities.
Sponsored Content